History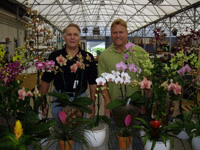 On July 5, 1980, Rob and Don DeLeon opened an 11,000 square foot shadehouse on 2.3 acres of land in Kendall, Florida at the encouragement of their father Nat DeLeon. This small facility provided collectors and small retail customers the opportunity to purchase rare and hard-to-find bromeliads, including specialty bromeliads produced by Nat.

In 1985 DeLeon's decided to transform over to the wholesale market. They sold the original location and opened a new 28-acre facility in Goulds, Florida. Their customer base grew to include specialty shops, indoor plantscapers and florists.

In 1992, Hurricane Andrew destroyed the entire Goulds location. Robert and Don spent the next few years rebuilding and restocking greenhouses and shadehouses.

In 1999, DeLeon's purchased 30-acres in Mt. Dora, Florida. An additional 10-acres was purchased 5 years later, totaling 40 acres. DeLeon's built state-of-the-art greenhouses and decided to produce orchids only at this location. In late 2006, DeLeon's finished a 5.5-acre automated glass greenhouse, the most modern computer-operated system available in the United States.
About Us

As one of the nations top growers of bromeliads and orchids, we have an excellent reputation for selling quality products at competitive prices. Through our controlled... Learn More
Upcoming Events
DeLeon's participates in a number of trade shows across the nation. Come see us at our booth... Learn More